SMM XP0 Manual Ignition Modules
MODEL NUMBERS:
SMM2P0AWSC0
SMM4P0AWSC0
SMM6P0AWSC0
SMM8P0AWSC0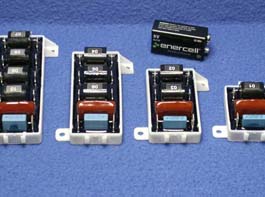 Design Features Include:
Low cost.
Compact size using StateoftheArt technology.
( SM2+0, 1.50¡¨ x 1.90¡¨)(38.0mm x 47.9mm)
Expandable up to 8 outputs.
SnapIn mounting. Input 120VAC +10%/15%.
AC Input: .250¡¨ x 032¡¨ QD tabs.
Spark Output: .187¡¦ x .032¡¨ QD tabs.
Spark Rate: 4 ¡V 6 Hz.
Spark Energy: 4mj into 50pfd load.
Temperature rating to 120¢XC.
Designed for Manufacturability.



The SMM XP0 Manual Module design is intended to provide reliable spark ignition for gas burner applications utilizing either Direct Spark or Flash-tube electrode setups. The design is based on State-of-the-Art technologies for both components and in manufacturing with consideration to meet RoHS compliance. Reduced size and low cost material offers a competitive opportunity in the White Goods market. The State-of-the-Art technology offers high production rate as
For more information on this design, including design variations, design support, specifications, packaging, layout, and quotes, please contact us.


To discuss your other design needs for spark ignition modules including Manual, Reignition, and Battery operated module, Oven gas and ignition controls, or Top Burner safety controls, please feel free to contact us .